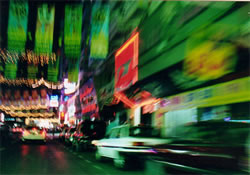 I stopped over in Dubai once on the way back from Bangladesh. It was a long stopover so they put us up at a hotel which had a very impressive view of a lot of sand.
I decided to take a look around so caught a bus to the main shopping complex. It was during the middle of the Dubai shopping Festival which appears to be second only to Ramadan in it's importance to the subjects of this busy little emirate. Everything is duty free here but frankly that didn't seem to make any real dent to the prices of most goods. I suppose if you're from a country in which there are heavy import duties then it might.
The only thing that did seem to be quite a bit cheaper than in the UK was jewellery – more specifically gold. All the gold shops were apparantly manned by Indians or Pakistanis and I think the source and style of the jewellery was South Asian. I wasn't in the market for any gold shopping but a fellow passenger of mine was. He was a Bangladeshi but lived and worked in Switzerland; in a restaurant.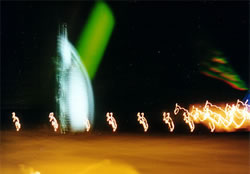 As often happens when a bengali spots another one in the midst of a sea of non-bengalis, they make a beeline for the other. This Swiss-bengy was no different (how did he know? is it some sort of bangla radar? – badar!?) he latched on to me. Since I was going to the shopping complex to do a spot of sight-seeing and perhaps to get a watch for myself I didn't see any harm in having some company. He spoke English well which is just as well as I don't have much Bengali. He told me that he was going to get some jewellery for his wife and we walked about the air-conditioned palace of merchants popping into gold shop after gold shop. I was fascinated by his ability to talk gold – the haggling over settings and prices that ensued was several divisions above anything I'd ever witnessed. In one shop we spent over an hour while this guy and the shop manager talked about the finer points of the workmanship the relative merits of various matching accessories and the price per kilo of gold. It was a real lesson and I was, I have to admit, slightly in awe of this master of the haggle. I think the shop manager was too because at the end of the process, after a deal had been struck and money had been exchanged for goods, he shook the haggle-masters hand in the manner that two title contenders might after a gruelling but sportsmanlike boxing match.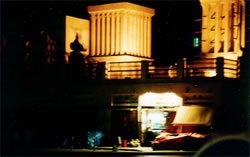 We left the gold shop and then it was my turn to bargain – I went into a watch shop, spent two minutes looking at the watches, saw one I liked asked them how much it was, gave them the money and then left the place after about ten minutes.
I concluded that I was rubbish at shopping.