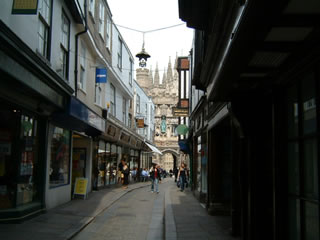 As a contrast to the northern no nonsense stonework of duo-cultural Bradford, Canterbury is a mono-cultural frilly piece of southern stone-masonry.
At the heart of the English establishment for the past 1000 years (at least), Canterbury is defined by its most dominating feature – the Cathedral. Most people will know of it as being the destination of Chaucer's pilgrims in the Canterbury Tales.
The city is little more than a large town but the place has a cathedral so it is as a result of some arcane point of English Law, a city. Anyway this little city is located in Northern Kent barely an hours drive from London but judging from the number of French speakers running about the place it's probably just as useful to say that it's barely a couple of hours train journey from Paris.
Which sort of sums up the real influences of the place, both the little city and it's big cathedral. Although there was some sort of Roman British place of worship at the site it was during the Anglo-Saxon times that a Cathedral actually stood at the site but fairly soon after William had a dig at Harold's eye the place was burned to the ground and was rebuilt by those Frenchified Viking invaders in a Norman gothic style.
The approach to the Cathedral is through narrow winding streets lined with bars, cafes and pubs (which all seemed to have some sort of Canterbury Tale'd theme – talk about your one-trick pony town). In fact it reminded me quite a lot of the approach to the Cathedral in Seville but with fewer portions of paella available and it has to be said a lot less horse shit on the streets. But to make up for this missed marketing opportunity Canterbury has the most number of Debanhams Stores per capita of any city on earth … well it seemed that way to me.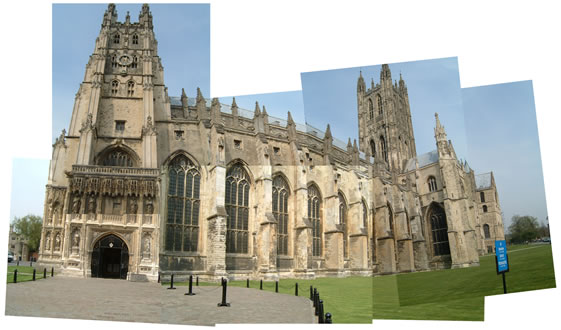 Canterbury Cathedral is a very impressive structure and a walk around it and through it's inner courtyard makes you marvel at the ingenuity, skill and talent of the countless anonymous souls who worked to build it. It's quitening even today but what the cowering masses must have made of it a thousand years ago I can only guess at, it must have been like seeing a mountain for the first time.
Inside the Cathedral didn't impress me as much as did the Seville Cathedral or the one in La Paz both of which seemed to be working places of worship in which the tourists were a reverent but peripheral feature. Canterbury seemed very geared to being a tourist attraction and of course still a place of pilgrimage for those like Chaucer's characters who want to see the place were Thomas Becket was martyred.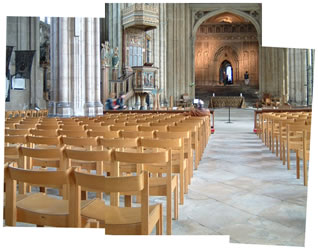 We didn't mind getting out of the place – it felt cold. It was, however, a warm day and the grounds of the Cathedral included a small walled garden, which is a great place to have lunch, and people watch. It must have been close to the Cathedral School because there was a steady stream of gangly pinstriped well-spoken students and their corduroy-wearing teachers passing through.
Still, apart from the wealth, privilege, prestige and historical eminence of the place there's hardly any difference between it and Bradford … unless that is, you also take into account the derelict factories, abandoned warehouses, lack of investment and simmering racial tensions.