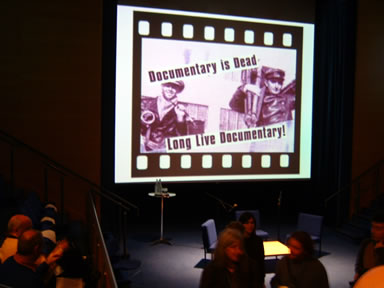 Hot on the heals of Day One was, unsurprisingly enough, Day Two of the "Documentary is Dead – Long Live Documentaries" series of seminars. Day Two's agenda asked the question, "Is there a future for documentaries on TV? Cinema? Or are there other outlets?"
Norman Hull began the day with an airing of his recently broadcast "Bernard's Bombay Dreams", which I'd watched a couple of months ago and in which vile racist-joker Bernard Manning was taken to the almost equally vile Bombay Gymkhana Club where whilst attempting to entertain the assorted glitteratti of Bombay High society he came a cropper (Hurray! – end of his post-modern, post-ironic, revisionist revival). Anyway, Norman Hull told us, amongst many other things, the "Documentaries are TV stunts now" and that "commisioning editors require more justification these days". Unsurprising really as everyone is having to justify their spends to shareholders and shareholders are looking for profits – it's just the way of our world today.
Martin Smith was a director on the seminal "World at War" series and said that he tries to "work within the system … and subvert it", that documentaries can be dangerous (to the powers that be) citing as example the recent incident involving Blunket's kerfuffle with a documentary that showed racist police recruits. Echoing Brian Moser from the previous day, he said that although he himself began life as an editor he always employs an editor and that feedback from the crew is important. (This I find interesting especially in the light of the trend for one-man productions these days). Generally Martin Smith emphasised the need for having a theme in the production and the need to be persistant. Interestingly, he suggested that the Internet could be a location to list, "research sources for documentary films … as per a book".
There was a lively exchange between Martin Smith and one of the two people sharing the stage for the next seminar, Penny Woolcock. It had to do with the scripted 'documentary drama' – "Tina goes Shopping" and hi-lighted the blurring of the distinctions between drama and documentary. Anyway, Penny feels that her films are, "about people who survive on the margins" and that she feels responsible for her subjects, i.e. keeping in contact with them well after the end of the production.
Both she and the other person on the stage with her, Marc Issacs (of 'Lift' fame), felt that it was quite legitimate to blur the distinction between drama and documentary and using documentary as a stylistic premise for drama. They too referenced Italian Neo-Realism cinema regarding this. Marc Issacs also added that he "fictionalised for creative reasons". Also regarding his own approach he suggests, "figure out what you want to say and the way you want to say it" and that he uses his budget to buy time which fits in with his method of allowing a narrative to develop over a long time spent observing/recording subjects. Naturally, he feels that "DV has democratised things".
The final session of these two illuminating days was chaired by Dick Fontaine from London's DocHouse. Three documentary makers talked about their very different projects.
Hal Vogel has (or is getting) a cinema distribution for his feature documentary "Game over: Kasparov and the Machine". this reflects the recent trend for cinema releases for feature documentaries such as, "Bowling for Columbine", and the stunning, "Touching the Void". He noted that he had to play with the sound, "doing things that work in cinema but would be unacceptable for TV", also that, "distribution is difficult", and that next time, "[He] would go with a small and very hungry distributor".
Mike Uwemidino from Vision Machine has been part of a collective that made 'The Globalisation Tapes". This was commisioned by the (International Union of Foodworkers) IUF. He hi-lighted the many alternative sources of funding from NGO's through Labour Networks to Unions. In answer to a question he revealed that, "the subjects were the crew".
The final speaker from DocHouse was Alex Cooke, the filmaker behind the very recently aired "Arnold Shwarzenegger: The Governator". She told us about how she just went out to California, living off her credit cards and filmed the political circus swirling around Arnie's governial election campaign. This in-spite of lack of access to the man himself. At this point Dick Fontaine pointed out that, "not getting access is about not getting access" (?) and that filmaking relies a lot upon luck but, "you've got find it". Ironically, Arnie's success has fuelled hers – her documentary was picked up by the BBC and she's managed to break even!
Alex Cooke continued by telling us that no matter how bad we think the situation is in the UK Documentary film making business, it's even worse for American's and finshed by hilighting the many International sources for marketing/distribution and funding such as ARTE, the Franco-German cultural channel – the Amsterdam Forum pitiching event, hosted at the International Documentary Filmfestival Amsterdam (IDFA) and the Toronto Forum which is hosted at the Toronto International Documentary Festival (TIDF). The key to documentary filmaking she said, echoing practically everybody else, is persistance!
The weekend was wrapped up with a Q and A session during which, regarding the distribution of Digital-Shorts, First Cuts, etc., a questioner asked why these were not available on the Internet. The answer given was that, "at the moment film on the Internet is horrible to watch but with expansion of broadband, things should improve significantly … it's happening already"
[UPDATE 20/01/04: Melissa McCarthy, over at shootingpeople.org, has written a two part review of the first day of the conference — you can read part 1 and part 2 to get a classy analysis about what was said on the day]