Well, I enjoyed all that and a couple of words of appreciation went a long way towards inflating my bonce, so cheers to Bushra, Rezwan and Tora – glad people enjoyed it.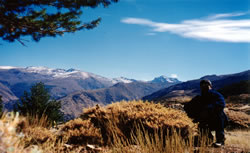 Actually, I was fibbing when I said that Granada was the last place I went to in Andalucia – I did a bit of hill walking up in the Sierra Nevada's before finally heading back to dear Ol' Blighty. And the darkly dodgy looking figure, squatting in the foreground, is not a Yeti – it's just me looking for dead royalty. In the background you can make out Mulhacen Mt., named after, Muley Abul Hassan, the last muslim ruler of Granada to have been born, lived and to have died in al-Andalus. He's said to be buried up around there… I didn't find him.
If anyone's at all inspired to check out Southern Spain then they wouldn't go too far wrong by starting here – www.andalucia.com – and for some really good reads, around the theme of these blogs, I can recommend, "The Travels of Ibn Battutah" –Tim Mackintosh (Editor), "Leo Africanus" – Amin Maalouf and "Tales of the Alhambra" – Washington Irving.