Granada was the last Muslim kingdom in Spain, consequently it's Islamic heritage is the most recent and is still largely intact. This is just as well because it means that Spain, Europe, Islam and the World are not denied a sublime legacy. I left going to Granada till last, both in reality and here – virtually – and if ever I get the chance it's where I'll head to first on a return trip to Spain. (Though Torremolinos may come a close second… well, those package deals are cheap.)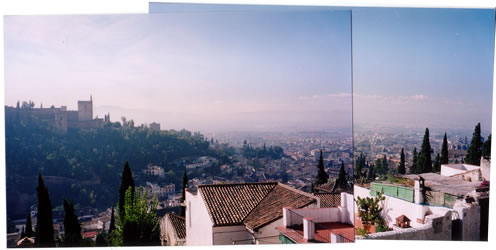 Granada's half way up the Sierra Nevada mountains, making the temperature noticeably cooler than in Seville or the costas but it does mean that you end up doing a bit of hill climbing when you're out and about being a tourist monkey. Of Andalucia's many tourist traps, the Alhambra is the daddy of 'em all… maybe even the Granadaddy!… (okay I won't do that again). It was, for centuries, the home of the rulers of Granada.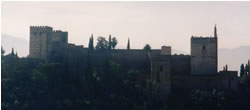 After I'd got myself settled into a dingy but cheap backpacker's hotel in the middle of Granada, (which is actually quite a diverting city by itself), I planned my assault on the twin peaks. No, nothing to do with David Lynch or Dolly Parton but a reference to the two hills that rise above the city, upon one of which sits the Alhambra and the other, upon which sits the Albaycin quarter.
The first time I went up the Albaycin I used public transport, (cheap, frequent – I've ranted about this already so I shan't again), but if you're feeling fit, (or stupid like me the second time round), it's well worth climbing up the dizzying paths winding through this quarter. Incidentally, the Albaycin was, as it's name clearly suggests, a Muslim quarter but a Muslim quarter that was developed by asylum seekers fleeing other parts of Al-Andalus as they fell to the Christian reconquest. Granada, through a combination of diplomatic skill and luck, managed to remain a Muslim kingdom for centuries after Seville and Cordoba fell.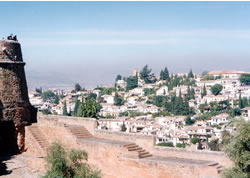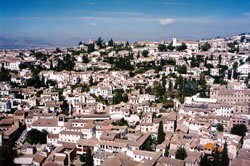 The Albaycin was the natural place for the city's rulers to house the refugees as it's a pain in the neck, (not to mention the calves, knees and butt), to climb everyday but like migrants everywhere these medieval asylum seekers made a success of it and it remains till this day, a stirring testament to the skills and energy that these people brought with them to their new home. (Yeah, I am having a sideways dig here at those in Britain and Europe who are so paranoid about 'bloody foreigners' that they fail to see the bigger picture – after all everyone has, somewhere in their family tree, a migrant or asylum seeker amongst their ancestors. Some more recently than others – Ahem!)
So, after the obligatory sketching and photo session from the mirador at the apex of the Albaycin, I tiggered down the giddying alleyways to the bottom of the hill and found a cyber cafe to email off a few messages. Granada is well geared for tourists which means that there's a thousand and one little shops and hawkers providing tourist services or selling 'moorish' trinkets and goods. The irony is that quite a few of these are Muslims but from Morocco – who have spotted a nice little niche, (wheels within wheels, hey?).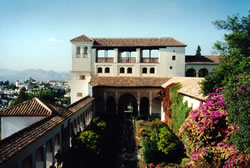 I had to book a specific time slot to actually get into the Alhambra, that's how popular it is. Besides which, I was too tired to do another hill. I shouldn't have worried though as there's plenty of buses, (cheap, frequent – blah blah blah!), that take you to the sprawling building complex at the top of the hill.
I don't know enough superlatives nor do I have an adequate enough vocabulary to describe my feelings and reactions to everything I saw at the Alhambra. These amateur snapshots will have to provide a bare impression of what it's like – I wish I could have spent a few days in the place but had to settle for six hours. (A note to self – take a packed lunch, bottles of water and extra rolls of film next time).
The history of the Alhambra is better googled elsewhere but I'm not surprised that the American novelist, Washington Irving, was so inspired by the place. I traipsed along the paths, gardens, mazes, halls, courtyards, prisons and balconies imagining a time when they were filled with the loves, lives and intrigues of half a millenia ago.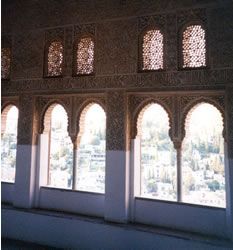 One thing that I pondered upon is how much the hacienda in 'High Chaparral' and 'Bonanza' looked like bits of the Alhambra.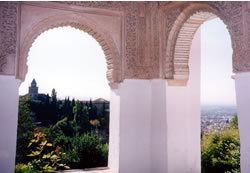 I guess that shouldn't be a surprise as after 1492, huge numbers of Andalucians went across to the Americas and no doubt they took with them the skills they'd inherited or copied from the architects and designers of this magnificent place.
The view from within the 'hacienda' bit would have been worth the admission price alone. I tried to imagine sitting there in 1400 say, looking out across to the Albaycin, listening to the muezzin call out for maghrib, and watching the people scurrying back home as Aladdinesque oil lamps were being lit in the windows.
Arabic calligraphy is a highly developed art form which is evident in brilliant abundance everywhere in the Alhambra – you're never far away from a verse from the Qur'an or a hadith in this place. These were all hand crafted – those rulers of Granada may, on occasion, have been at odds with their imams and qadis but they didn't shirk from their responsibilities as patrons of the Islamic arts.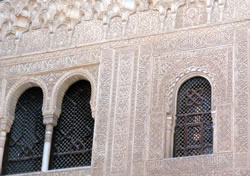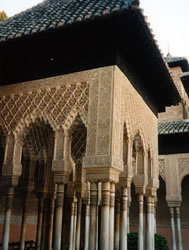 But there's more to the Alhambra than just dreamy balconies, there are intricately decorated marble halls, where the Sultans would greet visiting North African or Spanish Ambassadors – they must have been impressed – I was and I'm all the way from Birmingham.
The picture postcard courtyard has to be the Court of the Lions which, as all the brochures show, features a central fountain supported on the backs of four stone lions. It was the stonework colonnade surrounding the fountain that impressed me most. For some reason I went bonkers when I saw it – I had to sit down – it was just too beautiful… plus I was knackered by then.
Granada has a wonderful Muslim past but it's very much a modern city with modern, mostly Christian, inhabitants who live at ease with their lucrative, non Christian, heritage. Here, as elsewhere, I played my GWIF game, (you know – 'Guess Where I'm From… I've explained it elsewhere), and I have to say I had quite interesting results. The short of it is that most people thought I was a spanish speaker until I opened my mouth. I think that some thought that maybe I was South American but mostly I was taken for being a gitano.
The cultural contribution to Andalucian and Spanish culture by her Gypsy, (or Romani I think they refer to themselves as), minority is significant way beyond their small numbers would suggest should be so. Bullfighting and Flamenco are but two of their contributions but the attitude of conservative Spaniards is rather ambivalent to their fellow countrymen. It's not surprising that I was taken for a gitano on several occasions, after all Gypsies originally came from northern India and if you look at some flamenco performers they do look a bit Indian(ish). Possibly, I was suffering from traveler's paranoia but until I opened my gob I did feel that the stares from some hotel managers, shop keepers etc. was a tad wary. Perhaps they had their reasons. I'm somewhat generalising here and should emphasise that 90 percent of the Spaniards I met were very warm, interested and sincere.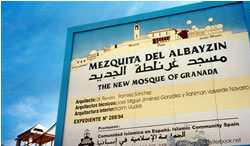 (I do go on a bit don't I? – I think I may take a break from this virtual travel blogging malarkey. I expect I won't be able to afford a second holiday this year as well so should keep those snapshots and memories in reserve.)
I started this Granada travel blog in the Albaycin and I'll finish there, (so to speak). The mirador, from where I looked across to the Alhambra, was the location at which, controversially, a new mosque was being built. And where are these Muslims, who are constructing the first mosque to be built in the Albaycin in over 500 years, from?… Spain.