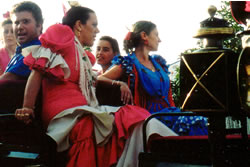 A short bus ride out of Seville is a small town going by the slightly unfortunately sounding name of Santiponce. I decided to pop along to it one weekend because I'd heard that it was in ruins… sorry! I meant that there were some ruins there. Actually it's worth mentioning at this stage that public transport in Spain, (as it had been in France), is excellent – everything is on schedule and it's cheap. Truth be told, in my experience, this is also the case in Belgium, Portugal and Holland. I'm sure it's as good, if not better in other parts of Europe too. So why can't we get it right in Britain? We're supposed to be the fourth largest economy on the planet and trains were fekin invented here as were double decker buses, timetables, chronometers and even time itself! (I've got my angry anorak on)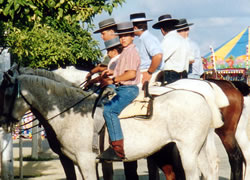 Anyway, back to Santiponce – so, I got there and there was a feria going on at full swing. That's the thing about Spain, any excuse to have a party; Spain has one of the largest number of public holidays in Europe… now that's civilised. So the Santiponce Feria meant that the locals get a chance to dress up, ride horses or in horse drawn carriages, eat, dance and drink… especially drink! Drinking in Spain, I was told, isn't a matter of quaffing copious amounts of alcohol and crawling into a curry house, there is an etiquette observed whereby to get boraccho, (falling down drunk I think?), isn't something to be proud of and certainly nothing to brag about. (Big Brother's Cameron would approve!)
After watching the festivities for a while, I decided that I'd trodden on enough horse poo for one day, so I headed off to the ruins of Italica. This was a thriving town founded by the Romans, well over two thousand years ago and was in fact the birthplace of a couple of Roman Emperors – one of whom was the famous wall builder Hadrian. Walking about the vast ruins makes you realise how advanced Roman civilisation was at it's peak. Well laid out roads, vast mosaic floored villa's and lots of plumbing. They liked a good bath did those Romans and when they weren't scrubbing themselves clean, (or more likely getting some poor slave to do it), they liked to pop along to the local amphitheatre.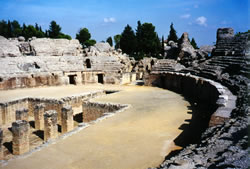 And what an amphitheatre the Romans of Italica had. It was one of the largest in the entire Roman Empire and I expect that the poor gladiators marveled at the imposing terraces as they were being chased down by lions, bears or bigger gladiators. While I was in Spain, the Hollywood movie 'Gladiator' was still running there. If you remember the film, it featured the exploits of a spanish born Roman general who falls foul of a particularly nasty Emperor and ends up becoming a gladiator. I was told that in Spanish cinemas, the audiences would go wild at the scene in which our protagonist stands up and declares, "Soy Espanol".
Although I didn't see that movie in Spain, I did get a chance to see the Shaft remake, starring Samuel L Jackson. Now that was a bad movie in english but was improved considerably when dubbed into spanish. If anything Sam (the Man) Jackson sounds even better than usual when he resonantly asks, "Algunas problemas?"
However, some things defy easy translation and the next installment features an aspect of spanish culture that is… well, as controversial as it is spanish, (a free trip to a shop selling porcelain ware if you can guess what it is!).