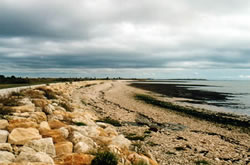 Still on my hols and loving every minute of it. So, I'm still virtually in France, this time on the Atlantic coast in La Rochelle. It's quite a well off town thriving, apparantly, from being a tourist destination for the French themselves but comfortable with the presence of your's truly. (They get a high score on the 'Guess Where I'm From?' game).
I was there for a few days and it was slightly off-season so the weather was a bit 'iffy' but being drenched by French rain just seemed cooler. Besides, I had my anorak and what's the point of having one if it doesn't ever rain on you hey?
Infact on a particularly gloomy day somebody had the bright idea of cycling around the place. Now, France is a cycle-friendly place and very trusting too.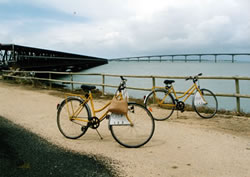 In this town, the local council lets locals and EU citizens borrow a bike for the day… for free! Can you imagine that at Skegness? you wouldn't last a day if you offered free bikes in Britain, they'd be repainted, put onto a container and shipped off to Timbuktu before you could say 'avez vous un cuppa?'. In La Rochelle they trust you… mugs!
So, we got on our free bikes and armed with a map headed off into the environs. It'd been a while since I'd ridden a bike and I'm not as fit as I used to be… okay I've never been that fit… okay I'm a physical wreck and always got picked last during sports but the old phrase 'it's like riding a bike – you never forget' … well it's bollox! I could have been killed several times over as I strained up and down the cycle paths. Those things are only the width of… er, a bike, anyway, for me they weren't wide enough – I've got big elbows you know.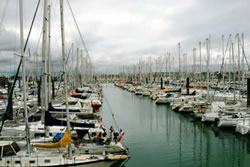 Awright! I'll stop whining already, anyway by the end I was peddling like a demon and reckon I could have cycled for Britain or Bangladesh, (if a terrible leg eating alien came down from the moon and depedimented everyone perhaps). The point about the free bikes is that they have to be returned to the council bike attendant by about 7.00pm which meant an overly exciting ride, through the marina, towards the end of the day.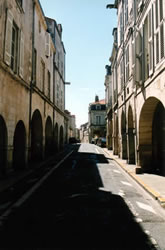 There isn't a better thing to do on holiday than eating I think and unsurprisingly La Rochelle had, hidden amongst it's arcades, some great sea food restaurants. Well you know about us Bangladeshi types and our fish, (if you don't then consider yourself told), we love our fish and the place was swimming with the little beggers… urm, literally!
Ah, yes! I still remember a cray fish or ten that was gobbled by yours truly one evening but I have to say that French chocolate isn't anything to write home about… unless you blog it instead. But French bread – awwwwww! so much better than Gregg's or even Tesco's – maybe it's the water, I dunno but every morning you'd see the locals walking cheerily towards the patisserie and a few minutes later they'd jauntily walk right back past carrying a steaming hot pain franglais.
Now if only they grew rice in La Rochelle, it would have been perfection.