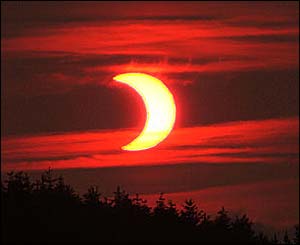 I found this stunning picture of yesterday morning's annular eclipse on the Beeb's website, the description of it says,
The main eclipse was hidden by mountains in Lochcarron, Wester Ross, Scotland, but Alex Ingram took this just after.
…lucky sod! I saw nothing from Brum. I was even awake at dawn for it and at 4.45 in the morning, as I squinted out of my window, bleary of eye, I saw nothing but clouds.
I'm not really an eclipse anorak. I just happened to be awake after getting in at 3.00 in the morning. I'd made a lightning trip down to London but on the journey back was treated to a delayed train (thank you yet again Mr. Branson).
London, however, was fine – very warm and perfect really for meeting up with a couple of friends. One of whom, Nicola, managed to persuade me that Terri Walker should be the next big thing in RnB. Nicola's probably in a good position to know, as her friend James is a producer on Terri Walker's new Album Untitled.
The other friend has recently returned from quite a lengthy residence in Pakistan. It's always great catching up with old friends, we'd been to college together and there's a core of us who have always kept in touch and met up whenever the opportunity arose. Actually, there shouldn't have been that much to catch up on. I mean with email and cheap international call charges we're all better informed about distant friends' activities than ever before but this friend had an interesting tale to tell – which had somehow missed being mentioned in any of his emails to me.
For the past few months, he's been in email contact with a British Pakistani woman who he'd met through a muslim introduction website. They'd got on well enough for my friend to decide to return from Pakistan and try to re-establish himself back here in the UK. This itself shouldn't be too much of a problem, he's got family and friends here and he's a resourceful businessman. For me though, the shocking thing is that he made this decision largely on the basis of a budding relationship with a woman who he hadn't even set eyes upon – not even in picture form!
Of course that's not unheard of, particularly amongst members of the various South Asian communities, I'm more astounded by the juxtaposition of traditional practice and modern technology than by my friend's actions. Infact, the more I think about it now, the more it seems obvious that the Internet is the perfect forum for meeting like minded partners if you happen to be a traditionalist, (muslim or otherwise). It would appear to offer a safe, abstracted environment which doesn't breach any 'purdah' rules and, according to the Beeb, is increasing in popularity amongst muslims.
I should add that the friend in question has now met his Internet lady and although it's early days yet, so far the signs are good.